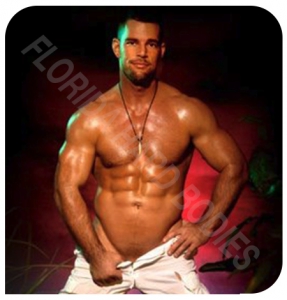 Florida Strippers | Male Strippers | Female Strippers
We provide the hottest Florida Strippers around! We are a professional adult entertainment company that provides professional strippers for your special occasion. For over thirty years, customers have trusted us with their special occasion–bachelor parties, bachelorette parties, divorce parties, birthdays–you name it, and we've performed at every special occasion and event.
We have Florida Male Strippers and Florida Female Strippers, who are Sexy, Personable, Professional, and Entertaining!
Florida Male Strippers
Our Florida Male Strippers are sexy, muscular and love to perform for the ladies. They have been featured in Playgirl, Muscle & Fitness, appeared on talk and radio shows, have toured with the Chippendales and the real Magic Mike group. Your birthday or bachelorette party will be complete when these hunks arrive.
Florida Female Strippers
Our Florida Female Strippers are gorgeous with flawless bodies and personalities that will leave your party wanting more. They have been seen in Playboy, Penthouse and Maxim magazine. We will bring the bachelor or birthday party to your house or hotel.
Florida Male Dancers | Exotic Female Dancers For Your Party
Our Exotic Dancers very flexible. They can put on a fun, wholesome performance for a 90th birthday or be wild and naughty for a crazy bachelorette/bachelor party. All the Florida male dancers have experience. The training consists of knowing how to set up the party, how to interact with the crowd, and how to leave everyone with a great impression. The exotic female dancers are equally adept at making sure the crowd is pumped up and everyone is enjoying the show.
Strippers Near Me
We cover the whole state of Florida, so when you are looking for strippers near me, we can help you. We will take the time necessary to ensure all your questions are answered.
Call now and a representative will spend all the time necessary to ensure your party is a huge success.
Book Now!  Find your closest city and give us a call!
FAQ For Hiring Florida Strippers
How long does the entertainer stay at our party?
Most male entertainers perform for about 30-60 minutes, depending on the number of guests and crowd participation. Female entertainers will perform for 30-120 minutes depending on the type of occasion.
What can I do before the entertainer arrives to ensure that the show runs smoothly?
Have a few armless chairs. Tell your guests to have their tip money ready. Make sure the television and stereo are not on, so the guests can fully enjoy the show. Please have all pets and children in another room.
Will the entertainer bring music?
Yes, they have choreographed music and a speaker.
How far in advance should I reserve the entertainer?
The earlier you call us, the more you increase your chances of availability. We do understand that last minute occasions happen, so we will do our best to accommodate you.
Will the entertainer perform at a bar, club, or other public location?
Yes, but you will have to get approval from the venue.
Will the entertainer call before they arrive at your party?
Yes, they will call or text a little before they arrive, so please have your phone close.
What costumes do the entertainers have?
The male acts include the cop, GQ, doctor, construction worker, nerd, biker, fireman and more. Female acts include the cop, schoolgirl, naughty nurse and more.
Are we allowed to take pictures of the entertainers?
The male strippers usually do not mind if you take pictures. Female strippers rarely want their pictures taken while performing.
Featured In